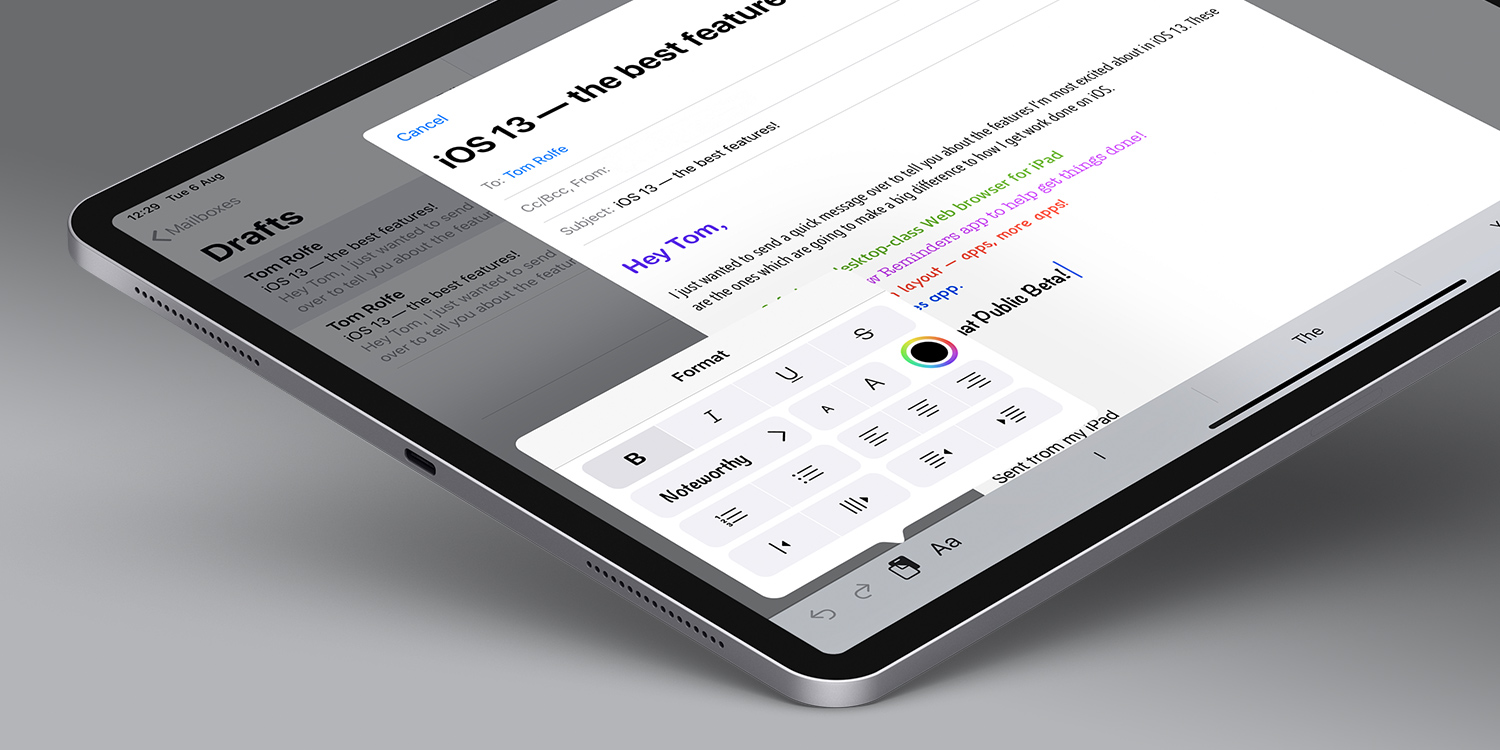 The future update of the iOS operating system that operates the iPhone, iPad and iPod touch is already under development at Apple headquarters in California.
At the moment, very little is known about iOS 13, but there are many interesting rumors that highlight some of the features and changes that we can expect to add in the update. The new version should be called "iOS 13"
There has been a major change in Apple's development policy since the launch of ios 12, and its developers now have more freedom to push back features that aren't ready when needed. Apple has already planned the next two years of updates at the same time. They now allow delaying underdeveloped features during the same annual updates.
For this reason, the iOS 13 update is said to be more developed than previous updates, at the same time, there are possibilities that any rumored functionality will also be postponed.
We already know some things about iOS 13, as Apple has delayed functionality from iOS 12 to iOS 13 to focus on bug fixes and other improvements under the hood. The majority of these features were shared by Bloomberg.
It can be expected that a redesigned Home screen interface, improvements to Photos, iPad specific updates, cross-platform iOS, and Mac apps, and more, are supposed to roll out along with iOS 13. Let's get into the details now.
Features to be expected
iOS 13 will feature a dark mode for the first time, it's one of the features iOS users have desired for quite some time now. The dark mode will probably replicate the dark mode that was first introduced on macOS Mojave which will help user during night-time viewing.
Rumors are there that Apple is planning to double the length of the video that's attached to a Live Photo. The duration will now be 6 seconds instead of 3.
There is also buzz about Apple is working on a new Home screen for the iPhone and the iPad, but we don't know exactly what it will look like until further information is rolled out from the company's end. CarPlay, a leading iOS app is also expected to get a new Home screen to match the iOS 13.
We do have a few details about what the revamped files app would look like, but Apple has stated that it is still working on some new features to be added to the new version of the app.
Many of the important features of the new iOS 13 be believed to focused to help the iPad users. Apple is supposed to be rolling out an important feature which will enable displaying multiple windows in a single iPad app using a tab view. A multitasking feature for displaying two windows of the same app side by side is also under iOS development.
There are also speculations that the mail is also going to receive new features. Rumors are their users will be able to mute incoming mail notifications from specific email threads once the update is rolled out.
Cross-platform iOS and Mac Apps
The iOS 12 and macOS Mojave have helped to introduce a new framework for integrating iOS apps to the MacOS, To test it, several iOS-only Apple apps, such as Stocks, Home, and Voice Memos, were ported to macOS to check their stability.
In iOS 13 and macOS 10.15, Apple has planned to expand this functionality to developers, so that it will be easier for iOS apps to be tweaked for porting to the Mac.
New emoji won't be instantly available after the launch of iOS 13, but we can expect it to be introduced within an iOS 13 update later in 2019. This update will introduce a few new characters to the emoji library. The characters which are to be added have been finalized by the Unicode Consortium. Some of them are named, flamingo, otter, waffle, sloth, white heart, people holding hands, ice cube, snorkel, orangutan, juice box, falafel and many more.
The iOS 13 is already under development at Apple's Cupertino campuses, and user visits to the MacRumors website from devices running iOS 13 with Apple IP addresses have already picked up over the last few months.
The visits actually began in early 2018 and have increased over the holiday months. Apple is known to start working on new versions of iOS many months in advance, and as a June preview date approaches near, we expect to see a growing trend of visits from iOS 13 devices.
Conclusion
iOS 13 is all set to be previewed at the Worldwide Developers Conference, which is scheduled to take place at some point in June. Exact dates for the event are yet to be shared.
After the iOS 13 is unveiled at WWDC, it will be available to developers for testing purposes, Apple's public beta testing group will follow after that.
Once beta testing has been completed, iOS 13 is supposed to see a public release alongside new iPhones, provided Apple sticks to its traditional release schedule.